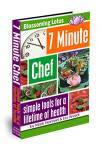 The 7 Minute Chef
Simple Cooking Tools for a Healthy Life
by Mark Reinfeld & Bo Rinaldi

I highly recommend The 7 Minute Chef.
This great e-book will help you:
Quickly advance in your culinary abilities

;

Confidently whip up delicious and healthy meals in your own kitchen

;

Feed yourself and your family food that you feel good about serving

;

Save money on your food budget and health care costs

;

Learn the ancient secrets of life giving superfoods

.
Give them 7 minutes of your time, and they'll give you a world of health. The inspiration behind 7 MINUTE CHEF is that by learning simple 7 minute techniques, you will have all the tools you need to create boundless culinary creations and a lifetime of healthy cuisine. Volume 1 of the series explores over 20 of these healthy cooking tools. Things like steam sauteing, creating marinades and spice mixes, roasting veggies and more are all designed to show you how simple it is to gain confidence in the kitchen.
---