Give a Hootenanny !
Twangy Tunes About Lovin' the Earth
For Ages 1 –101
CD by Heidi Howe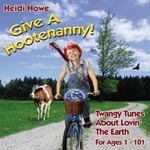 (Ok, it's not a book. But it's so unbelievably good, I want this recommendation to reach as many people as possible.)
I wholeheartedly and enthusiastically recommend the album "Give a Hootenanny!" to every earth conscious kid, teacher, parent, grandparent, and anyone else between the ages of 1 – 101.
In Give a Hootenanny, Earth Consciousness meets Kentucky Bluegrass in a way that will knock your socks off !
First of all, the lyrics are amazing. With great clarity and sensitivity, Heidi Howe managed to write fun and upbeat songs that teach and bring awareness to honoring, appreciating and taking care of the planet, as well as the human body.
Brain-based learning research is continually proving the many benefits of music in learning. This cd is an outstanding testimony to that. The important messages about taking care of the earth are delivered so rhythmically that most listeners will find themselves singing them when they least expect it. The songs are full of so many great earth conscious phrases that will etch themselves into the memory of the listeners in a way that few classroom lessons could match.
The music, the beat, and the rhythm will have even the most skeptical person bopping around in no time. I have to admit, I have never been a fan of country music but Heidi Howe is forcing me to reexamine my beliefs. The lyrics have been beautifully married to outstanding Kentucky bluegrass sounds and rhythms. I can't help bouncing around when I listen to the music. The music is really fun. This is a great album to enjoy in the classroom, at home or in the car - when you want to bring in a burst of energy. It is really good music to dance or jump around to.
Without a doubt, Heidi Howe has broken the mold of any musical genre that I have been exposed to. It is truly a delight to be introduced to such enlightened music. As an educator committed to helping raise awareness of the planet, it is so exciting to see someone offer such a wonderful creation.
The album is available on her web site – www.heidihowe.com. The cost is $10 and a portion of the profit goes to charity. At that price, I recommend buying as many as you can and giving them out as gifts !
Jennifer Reinfeld
Executive Director
Children of the Earth United
Heidi is also available for concerts tailored to meet the needs of your organization, school, library, etc. She can also do fundraisers and educational programs for children and families, as well as shows for adults. For booking information, she can be reached at heidi@heidihowe.com.
---

If you know of a book (or music) that you would like to share with other educators, please send a summary and any other relevant information via E-MAIL or mail to Children of the Earth United - P.O. Box 258035 ~ Madison, WI 53725.

---