Where the Wisdom Lies
A message from nature's small creatures
by Hope Ives Mauran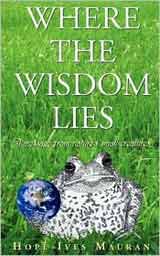 Summary: A beautiful book with an important message.
I highly recommend the book "Where the Wisdom Lies: A message from nature's small creatures" by Hope Ives Mauran. This little book is packed with powerful messages about the vital role that the small critters play in keeping our planet healthy. At the same time, this book creatively expresses the importance and necessity of becoming responsible stewards of the planet.
This book will be highly appreciated in the classroom and in the home. In the classroom, it can serve as a great complement to Animal and Habitat - science curriculum, as well as Making a Difference / Earth Day projects. In the home, it will be enjoyed and appreciated by both children and adults. (My husband and I found this book to be very profound and motivating.)
You can purchase the book by following one of these links:
- Jennifer Reinfeld, MS Ed
Executive Director of Children of the Earth United
---

If you know of a book that you would like to share with other educators, please send a summary and any other relevant information via E-MAIL or mail to Children of the Earth United - P.O. Box 258035 ~ Madison, WI 53725.

---